Clinton Community College is pleased to announce upcoming performances for the 2019-20 Visiting Artist season. This is the 46TH year that CCC has offered these performances for the community as part of the Quad Cities Arts, a program that strives to make the program accessible to people of all walks of life, including students, seniors, and working people. Performances will be held in both Clinton and in Maquoketa throughout the year.
Andrew Collins Trio – String Trio – Wednesday, September 18 – 7:00 p.m. – CCC Tech Center Room 10, 1951 Manufacturing Drive, Clinton, IA.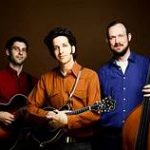 Award winning mando-maestro Andrew Collins is joined by fellow Trio string-meisters Mike Mazzatesta and James McEleney to showcase a popular collision of folk, new acoustic roots, chambergrass, and jazz, not to mention a dizzying number and energetic interplay of instruments on stage.  Their dynamic genre hopping show is propelled even further by Andrew's captivating lead vocals and James' soaring harmonies.
Rick Beyer – Historian/Dramatist – Wednesday, November 6 – 7:00 p.m. – CCC Tech Center Room 10, 1951 Manufacturing Drive, Clinton, IA.
Rick Beyer is a best-selling author, an award winning documentary producer, and a long-time history enthusiast.  With a take on history that is both humorous and illuminating, he has appeared on CBS News, MSNBC, CNN, the Discovery Channel, NPR and Fox News.  Rick wrote and produced the PBS documentary The Ghost Amy, which has been honored with a CINE Golden Eagle and audience awards at several film festivals. Rick will be performing dramatic multi-media readings from his works, and working with students on group readings.