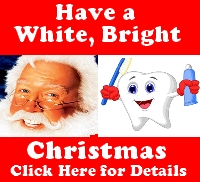 Clinton radio station KROS 105.9 FM & 1340 am, is once again spearheading a campaign to help area food banks.  "Have a White, Bright  Christmas" will be held from December 10th through December 17th and is designed to help stock area food banks with toothpaste, toothbrushes, floss & mouthwash to make sure our children and kids of all ages learn proper dental hygiene.  Major sponsors are Déjà vu & the Dressing Room, Awesome Town MVP, Central Bank Illinois, Fulton Office.
"KROS is always looking for ways we can help in the community.  The past couple of years we collected peanut butter, cereal, soup & jelly and had great success doing that," says KROS staff member, Greg Naftzger.  "The pantries always need food, but they also need personal hygiene items."  "This year we decided to change things up a bit and collect tooth brushes, tooth paste, floss & mouth wash to help Kids and the rest of us have a white, bright smile for Christmas".
Donations through "Have A White Bright Christmas" will go to Fulton, Thomson and Albany food banks in Illinois and the Benevolent Society serving Clinton and Camanche.  "Have a White, Bright Christmas" is a program that anyone can participate in and any kind of dental supplies will be accepted.  Just pick up an extra tube of toothpaste or a toothbrush the next time you're getting groceries and drop it off at KROS Radio, one of our major sponsors, Deja Vu, Awesome Town, Central Bank Fulton or one of our many local sponsors from December 10 – 17.  For a complete list of drop of locations go to krosradio.com.
Donate Toothpaste, Toothbrushes, Floss & Mouthwash!
WHITE, BRIGHT CHRISTMAS COLLECTION SITES 2016
MAJOR SPONSORS:
Déjà vu & the Dressing Room
Awesome Town MVP
Central Bank Illinois, Fulton Office
Fulton Journal
KROS Radio
FULTON LOCATIONS:
Mor Huiz Promotions & River Huis Traders Antiques
Central Bank, Fulton
1st Gateway Credit Union
Awesome Town MVP
Fulton Journal
Robert Fulton Community Center
Johnnie's Tap
Lockhart & Law Ins.
Fulton Dental Associates
Wilson Floral & Gifts
CLINTON LOCATIONS:
KROS Radio
1st Gateway Credit Union
Déjà vu & the Dressing Room
Don's Jewelry
Brown's Shoe Fit
Deanna's Java Cafe
Forever Starts Here
YWCA
Rastrelli's Restaurant
IN ALBANY:
1st Trust & Savings Bank
Albany City Hall
Albany Mississippi Cafe
IN THOMSON:
Savanna – Thomson State Bank
CAMANCHE:
1st Gateway Credit Union
Gary Low DDS