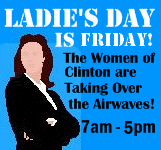 The annual KROS Ladies Day is Friday February 27th. Listen as area business women and civic leaders take over the airwaves from 7:30 am to 5:00 pm. You'll find out about them and their businesses on one of KROS Radio's most entertaining day.
Ladies Day Schedule:
7:30 am, Tina Lemke from Lemke Funeral Home.
8:00 am, Brenda Thornton from Homer's Deli & Sweetheart Bakery.
8:30 am, Paula Mayer from Citizen's First Bank.
9:00 am, Erin George & Emily Steenhard from the Painted Rooster.
9:30 am, Jennifer Huginin & Selena Medenblik from Comprehensive Rehab Inc.
10:00 am, April McFall from Regency Retirement.
10:30 am, Deanna Posey from Deanna's Java Station.
11:00 am, Sarah Brubaker from the YWCA.
11:30 am, Maggie Stafford from Buddy Gourmet.
12:00 pm, Mid-day Report.
12:30 pm, Kelly Cramer from Medical Associates.
1:00 pm, Barb Suehl-Janis from Windmill Realty.
1:30 pm, Jessica Kinser, Clinton City Administrator.
2:00 pm, Jackie DeBoer from Rastrelli's Restaurant.
2:30 pm, Marcia Larson and Margo Hansen from Clinton Community College.
3:00 pm, Val Hill from Nelson Corp. Wealth Management.
3:30 pm, Lori Susie from Sedona Staffing.
4:00 pm, Shari Determan & Beth Kenney from Aloha Sun Tanning.
4:30 pm, Lou Ray from DeJa Vu Furniture & Accessories.